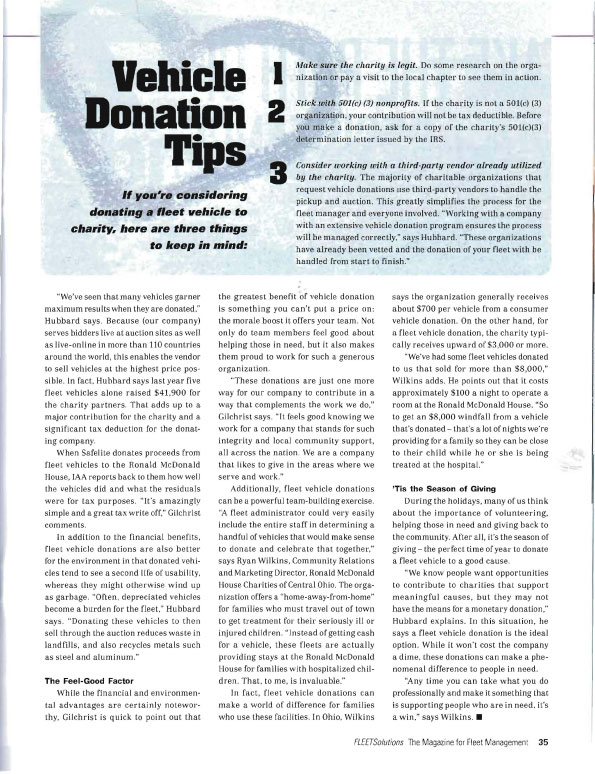 PROJECT INFO
TITLE: Vehicle Donations
PUBLICATION: FLEETSolutions Magazine, the official publication for NAFA (Fleet Management Association)
PUBLISHER: Naylor Association Solutions
DESCRIPTION: The benefits of donating fleet vehicles for a good cause
TESTIMONIAL
"If you want it done right and done well, Amy is the way to go. She's a true professional with top-notch writing and researching skills. I work exclusively with trade and professional associations and their communication pieces. Amy's knack for writing with flair and with an authoritative voice are perfect for our magazines and well received by our association clients and their members. I highly recommend her to anyone looking for great content and exceptional service!"
–Lashonda Curry, Content Strategist, Naylor Association Solutions
EXCERPT
With the holidays upon us, businesses across the nation are turning their focus to helping those in need through charitable donations. But for many fleets, donations aren't just a seasonal activity. In fact, many fleet managers contribute a bundle to local charities throughout the year.
For example, the Safelite AutoGlass® Foundation has donated more than $5 million to non-profit organizations since its inception in 2005. And a large chunk of Safelite's charitable contributions comes from vehicle donations. "We've donated [vehicles] to the Boys & Girls Clubs, Big Brothers Big Sisters, the Red Cross and our primary charity, the Ronald McDonald House," says Erin Gilchrist, Fleet Manager, Safelite Group. "It's easy, and it's for a great cause."
Keep reading to learn how the vehicle donation process works and how your fleet can reap the benefits from this generous remarketing option.
A Surprisingly Simple Process
According to Gilchrist, the vehicle donation process is incredibly easy for fleet managers. "It's naturally what you do as part of your business process anyway—you remarket vehicles every year. So why not set aside five vehicles and donate them and write off the value of the vehicle?" she explains.
Here's how vehicle donation works: As the fleet manager, you work with your team to identify a vehicle at the end of its useful life for your fleet due to age and/or mileage. Once you've pinpointed a vehicle or group of vehicles you'd like to donate, you have two options. The first option is to donate the actual vehicle to a local charity.
"For Boys & Girls Club and Big Brothers Big Sisters, there are times when they ask for a commercial cargo van to transport equipment and other items," says Gilchrist. In this scenario, she identifies a vehicle in the commercial van segment of the Safelite fleet that is ready to be remarketed, cleans it up and removes all the unnecessary equipment. "We basically strip the van out to make sure it's safe and useful for them," she adds.