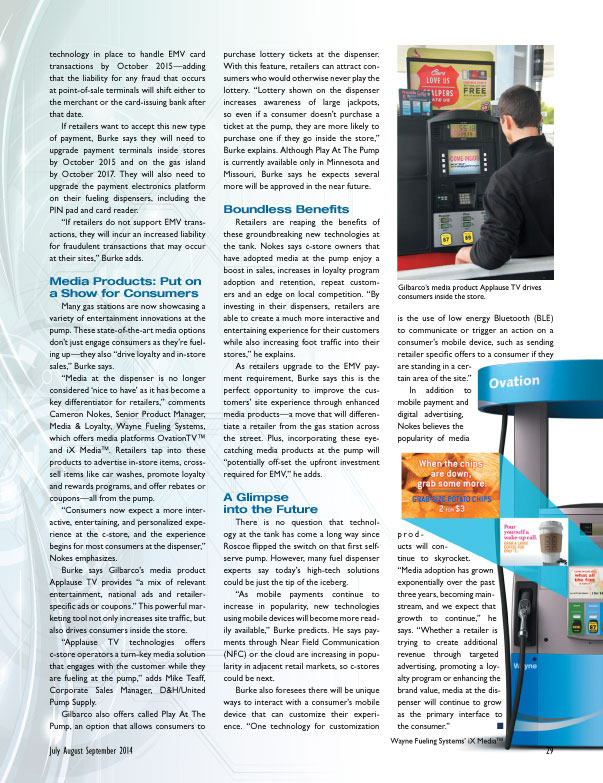 PROJECT INFO
TITLE: Technology at the Tank
PUBLICATION: Texas Food & Fuel Association Quarterly
PUBLISHER: Naylor Association Solutions
DESCRIPTION: Emerging technology trends at the gas pump
TESTIMONIAL
"If you want it done right and done well, Amy is the way to go. She's a true professional with top-notch writing and researching skills. I work exclusively with trade and professional associations and their communication pieces. Amy's knack for writing with flair and with an authoritative voice are perfect for our magazines and well received by our association clients and their members. I highly recommend her to anyone looking for great content and exceptional service!"
–Lashonda Curry, Content Strategist, Naylor Association Solutions
EXCERPT
Half a century ago, on June 10, 1964, Colorado convenience store operator John Roscoe activated the first remote access self-service gas pump in the United States. Although Roscoe only sold 124 gallons of gas that day, one thing was certain: Fueling had officially entered the modern age.
Of course, technology at the pump has come light years since then. In the mid-1980's, engineers incorporated credit card readers into pump dispensers, laying the groundwork for the pay-at-the-pump options consumers use today. Today, self-serve pumps are available in every U.S. state with the exception of New Jersey and Oregon, and nearly three quarters (72%) of all transactions at the pump are made by credit or debit card, according to The Association for Convenience & Fuel Retailing (NACS).
Yet fuel dispenser experts continue to innovate, adding revolutionary new features to gas pumps. Keep reading to learn about some of the latest and greatest options trending at the pump right now.
Media Products: Put on a Show for Consumers
Many gas stations are now showcasing a variety of entertainment innovations at the pump. These state-of-the-art media options don't just engage consumers as they're fueling up—they also "drive loyalty and in-store sales," Burke says.
"Media at the dispenser is no longer considered 'nice to have' as it has become a key differentiator for retailers," comments Cameron Nokes, Senior Product Manager, Media & Loyalty, Wayne Fueling Systems, which offers media platforms OvationTV™ and iX Media™. Retailers tap into these products to advertise in-store items, cross-sell items like car washes, promote loyalty and rewards programs, and offer rebates or coupons—all from the pump.
"Consumers now expect a more interactive, entertaining, and personalized experience at the c-store, and the experience begins for most consumers at the dispenser," Nokes emphasizes.