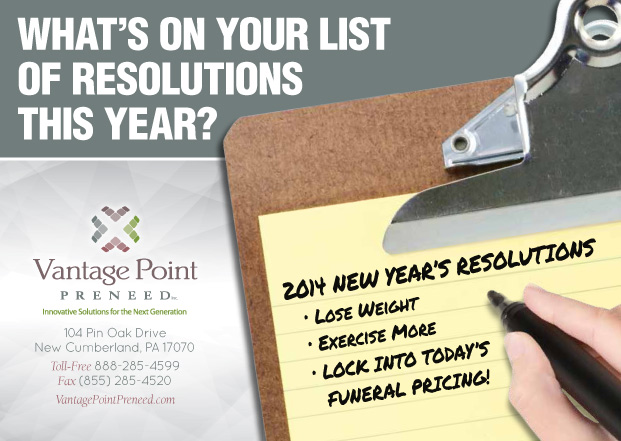 PROJECT INFO
CLIENT: adfinity
PROJECT: Vantage Point Preneed direct mailer
TESTIMONIAL
"WritePunch is not the cheapest option we have for copywriting, but it is certainly our best option. The quality of the writing is phenomenal and because we don't have to go back for second drafts it offers a better value compared to less expensive, less talented writers."
–Doug Clery, Owner, adfinity
EXCERPT:
RING IN THE NEW YEAR WITH PEACE OF MIND:
Pre-Fund with Vantage Point Preneed Today!
You've already met with us and completed your preplanning paperwork. With a new year upon us, now is the time to finalize your arrangements! Don't delay any longer. Call us right away to learn how you can lock into today's funeral pricing.
By prefunding now, you will relieve your family from a heavy financial burden in the future. At Vantage Point Preneed, we offer customized options to ensure your funeral is fully funded and price protected years in advance of your need.
Give your family the ultimate New Year's gift. You've lived life well, and when it's time for your final goodbye, we are here to help. When you fund your funeral in advance, you'll ensure your final goodbye will be easier for the people you care about most—your family.