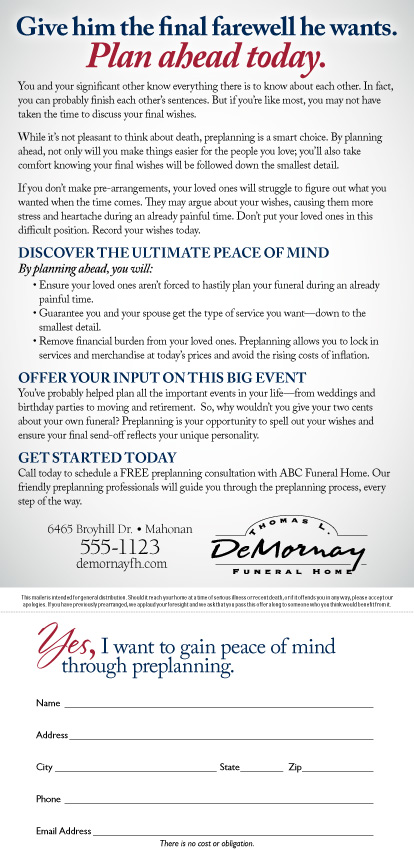 PROJECT INFO
CLIENT: adfinity
PROJECT: Preplanning Direct Mailer
TESTIMONIAL
"WritePunch is not the cheapest option we have for copywriting, but it is certainly our best option. The quality of the writing is phenomenal and because we don't have to go back for second drafts it offers a better value compared to less expensive, less talented writers."
–Doug Clery, Owner, adfinity
EXCERPT:
You know his favorite foods, his fondest memories, even his deepest secrets…
But do you know his final wishes?
Give him the final farewell he wants. Plan ahead today.
You and your significant other know everything there is to know about each other. In fact, you can probably finish each other's sentences. But if you're like most, you may not have taken the time to discuss your final wishes.
While it's not pleasant to think about death, preplanning is a smart choice. By planning ahead, not only will you make things easier for the people you love; you'll also take comfort knowing your final wishes will be followed down the smallest detail.
If you don't make pre-arrangements, your loved ones will struggle to figure out what you wanted when the time comes. They may argue about your wishes, causing them more stress and heartache during an already painful time. Don't put your loved ones in this difficult position. Record your wishes today.